RFP Writer Store – Tools, Gifts and Merchandise
The RFP Writer Store provides RFP writing tools and RFP writer themed gifts and merchandise. The RFP writing tools are digital downloads designed to facilitate more effective RFP writing. The RFP writer themed gifts and merchandise recognize and inspire the amazing talent that RFP writers possess. RFP writing isn't for everyone. In fact, it's a unique writing niche. Our goal in the RFP Writer Store is to capture some of that uniqueness. You can give this RFP merchandise to yourself or give it to an RFP writer you know.
The quality of the RFP themed products in the RFP Writer Store is excellent. We have teamed up with Printful, one of the top printing and fulfillment companies in the US and Canada. Note that we use Shopify and Etsy as our e-commerce platforms.  As a result, the store names you see upon delivery will reflect our store names on those platforms.  Digital downloads are delivered immediately. Physical orders are usually processed within a couple of days. Shipping times vary, but often we see items being delivered in a week. We guarantee everything and if you are not satisfied, just let us know.
We can also produce custom orders. So if there is something RFP-related (or other), let us know and we can provide a quote for getting it produced.
RFP Digital Download Tools from Boardroom Metrics
Tell the world what you do with this eco-friendly, 100% organic cotton RFP Writer cap. It's a high quality, sustainable choice for her and him.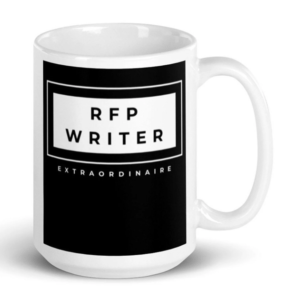 Writing RFP's is your cup of coffee. And you're really good at it. Stay inspired with this RFP Writer Extraordinaire coffee mug.
The ABC's of RFP's bring others to their knees. Not you! This 100% organic t-shirt is eco friendly, super-comfy…and Unisex.